Benjamin Pizarro, Alabaster Artist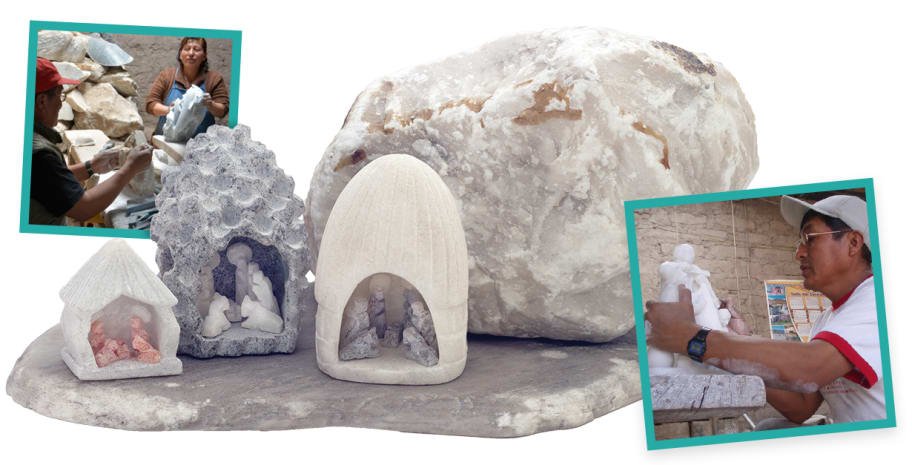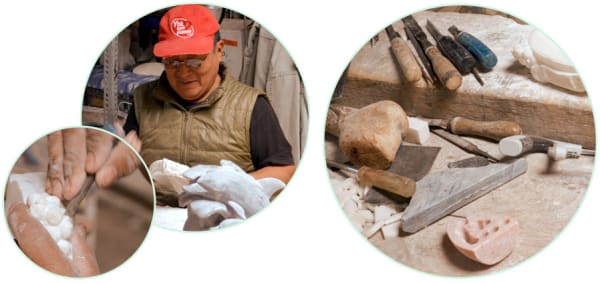 Benjamin has been carving alabaster stone since he was 8 years old and was taught this traditional art from Ayacucho by his uncle. At age 10, he also started learning about retablo (altar piece) making from Don Antonio López, the eldest son of renowned artist Joaquin Lopez Antay. In 1973, at only 14 years old, he started winning contests which put him in the spotlight nationally and internationally. At that point, his uncle proudly told him that he was officially a professional artist and could make a living with his art. He was offered a scholarship to study in Germany, but due to his young age, his parents did not allow him to attend. Just a few years later, when he was still a teenager, he was invited by the president of Venezuela and traveled to partake in an exhibit with the help of a teacher.
When tourists or customers visit his workshop, he enjoys explaining his process. Visitors are surprised at the time it takes Benjamin to perfect even the smallest details and are amazed that it is all made by hand and not by a machine. When guests try working with stone, they get frustrated as they realize how hard it is. At that point, Benjamin humbly replies that God has given us all our own unique gifts, and working with stone is his.

Benjamin spends many hours crafting and carving his pieces. His passion remains with his commissioned larger sculptures which usually depict devotional figures such as Virgins or Nativities. Every now and then, he may be commissioned to carve large sculptures of animals such as dolphins. Sometimes he may spend a whole day to finish two feet on a single statue. However, these larger commissioned pieces are not always frequent. To pay the bills and fill the proverbial pot to sustain his family, he relies on and values having regular orders for his smaller pieces such as the miniature nativities he creates for Lucuma Designs.

He is proud his work has gained him enough recognition to allow him to travel nationally and internationally. Because of his reputation, a few years ago his family workshop was commissioned to create a giant, 13.7 foot tall retablo, which is still on display at the Ayacucho airport. Thanks to that piece, a French collector discovered and connected him with a few opportunities in Europe. Now, Benjamin and his wife Bertina enjoy traveling for a month each year to sell their crafts at rotating Christmas fairs in either France, Belgium, Switzerland, Spain, or other countries.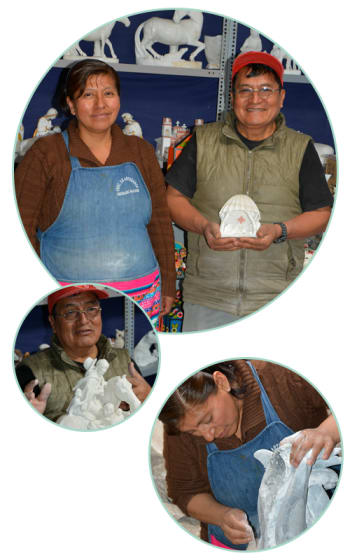 | | |
| --- | --- |
| | |