Wholesale Shipping Policy

US Standard Ground
Orders ship by UPS within the continental US


FREE* on $600+ orders that ship complete (in-stock) or future orders*
FLAT $13.95 on $250-$599 complete orders.
Only $6 on backorders (must be over $60)
* Free Shipping Special excludes gourd birdhouses.

** To qualify for Free Shipping, products on your order need to be in-stock really to ship and amount to at least $600 for immediate deliver.


Air & Express
Air to Hawaii, Alaska, US Territories, or International
Priority or Express mail is normally the most economical and convenient way to ship your air or international orders.
Cost will be calculated depending on destination, weight and volume. If you need an estimate, please ask us.
Note please the air shipping cost shown on our shopping cart is for reference only. Actual cost will be calculated when your order is processed. We will request authorization in the event it is higher than 20% of the cost you saw online.


Express
When you need your order in a hurry, please call us at 877-858-2862 M-F 9am-5pm (EST) to confirm if we could meet your special deadline.
Express Shipping Cost will dependent on destination, weight and volume. To know ahead of time, feel free to request a quote.


Processing Time


Orders are normally processed and shipped within 2 to 5 business days for all in-stock items.
During peak season, processing times may be longer.


In-Transit
From our warehouse in Florida boxes may take 1-3 business days to your location on the East coast, or up to 5-7 business days to the West coast.
Expect to receive a tracking number when your order is shipped.
*These estimated shipping times within the US are for reference only as we are not able to guarantee exact dates for shipping by UPS Ground, Post Office or international destinations.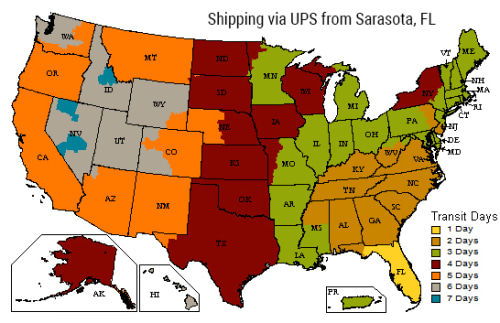 Lucuma Designs reserves the right to cancel or make changes to this policy at any time.