Victor Chavez Quispe, Ceramic Artist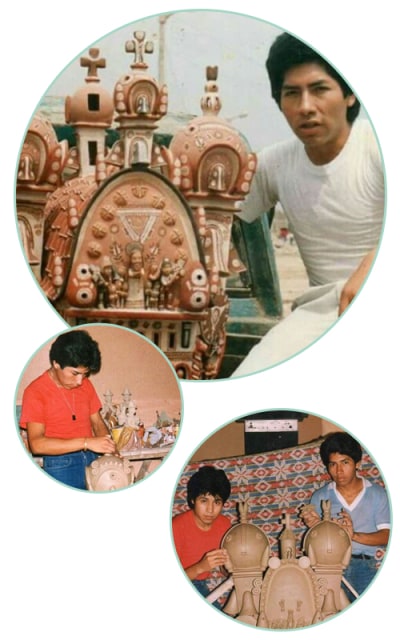 Victor discovered his talent for ceramics in 1981 when, as a teenager, he visited his parents' hometown in Ayacucho. There, surrounded by artists, he naturally picked up the craft, experimenting with clay and taking advice from his aunts. It wasn't until later that he learned his grandfather had been also a ceramist.
Back in Lima, he continued to develop his skill, but due to his young age exporters and buyers did not take him seriously. He struggled to sell his work and grew discouraged, leading him to decide to quit his craft. As a farewell impulse, he created a final 1.3 meter high sculpture, which caught the attention of a priest and opened new opportunities for him. Thanks to his talent, Victor was recruited to tutor in a church-funded workshop. For five years, he trained other ceramists while studying the bible. This helped him find a new passion for creating Nativities and devotional figures, saints, and virgins.
Thanks to a financial aid project from Italy, Victor was able to open his own workshop. In 1995, he entered his first contest, along with his younger brother Richard, and won first place. From there, he went on to win four contests in a row, which gained him national and international recognition.
Victor has always had a passion to create. As a child, he dreamed of becoming a musician like his father; however, now, he feels naturally in control while working with clay! It's as though it completes him.
"I've always wanted a profession in the arts. I put in so much love into my ceramics that I feel I have reached my goal. I am very happy now."
It is evident from his pieces that Victor always gives his best. As a perfectionist, he can spend up to two days perfecting a single face. He is also proud that his work honors the traditional techniques and continues to elevate the lineage of great ceramic artists from Ayacucho.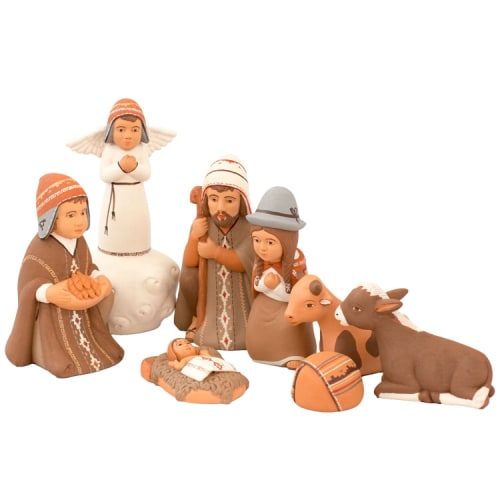 Today, he enjoys experimenting with new ideas and developing truly unique pieces. He feels fortunate to have a profession where he is able to not only earn a living, but also express himself and his values.