Raquel Sanabria García: Growing with Gourd Art and Fair Trade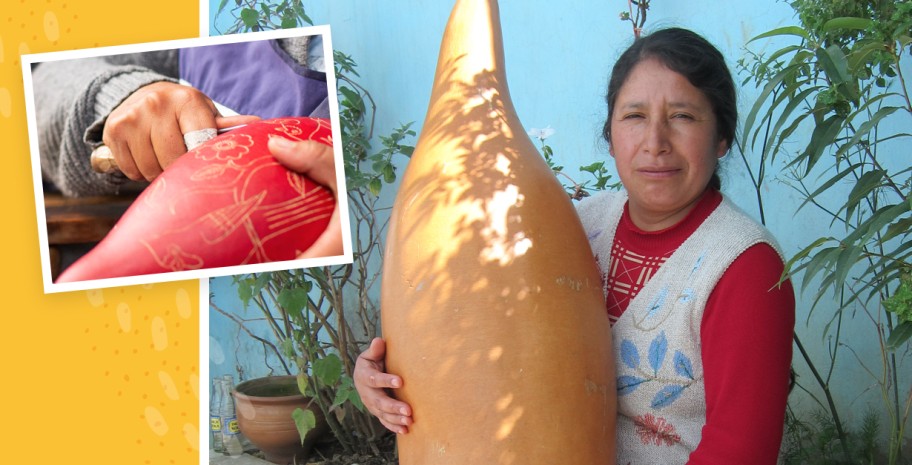 Born in Cochas, Peru in 1973, Raquel Sanabria García grew up admiring her parents' ability to create beautiful gourd art. So, her talent and love for designing gorgeous gourd gallery pieces came naturally. As a young girl, she enjoyed watching her father make perfectly detailed carvings of animals and people.
"My dad imparted in me his wisdom and taught me how to also create perfect carvings. He couldn't take any sloppy work, and always told me to do it well. He was a perfectionist."
As an adult, her love for her parents' art has transformed from admiration to appreciation: "This work is worth a lot to me. I don't know what I would do if I didn't have it. I find this work comfortable because I can be with my husband and children. I can take care of them when they come home and feed them and educate them."
She is also grateful for the strong work ethic her parents imparted in her, which has served her well while raising her kids.
"My mom taught me good working habits. Since I was a little girl, she kept me busy helping with the household chores while also helping her with the crafts. She didn't like me to go out or sit around doing nothing."
Together, Raquel and her husband, Sebastian, run their family gourd workshop in Cochas, Peru. A few years ago, Sebastian fell ill, so Raquel had to step up to take the lead. Nevertheless, she mustered her courage and found the confidence she needed to handle her new responsibilities. Now, as an artist and group leader, she's making the decisions, organizing projects, and has even become more proactive around her community. She recently assumed a new leadership role within their church, which had been previously held by her husband.
This may be a sign that times are changing for the better as more opportunities open up for women in this little Andean town. Although grateful for her own success and the opportunities that have opened to her through her gourd art, she is also aware not every girl in town is as lucky.
"I believe that women today may have more opportunities, but only a few take advantage of them. Perhaps it's their lack of education, and also because most people in my town don't travel or go anywhere. They don't question anything or have much curiosity. I think that's why the women around here don't grow. There are fortunately few women, like me, who have traveled to Lima. Also thanks to working close with Apumano and Lucuma Designs, I've been able to wake up and push myself forward."
Raquel continues to blossom as an artist and leader. She takes pride in her work and makes sure to keep her customers happy. As her father held art to such high standards, she too feels the need to ensure that everything is perfect. She tries her best to finish all of her projects on time and to follow through with her promises. There's no room for laziness in her workshop but she cares deeply about each of her team members and has achieved good unity among her group. When she's feeling overwhelmed, she knows she can count on her team to help her get back on her feet.
"Somehow I feel that I am been healed of some ailments knowing I am helping our group move forward. And when my team see me worried and overwhelmed, they encourage me and know how to cheer me up. They'll take me to play my favorite sport, volleyball. Usually the next day we all work even harder!"