Play & Learn with Finger Puppets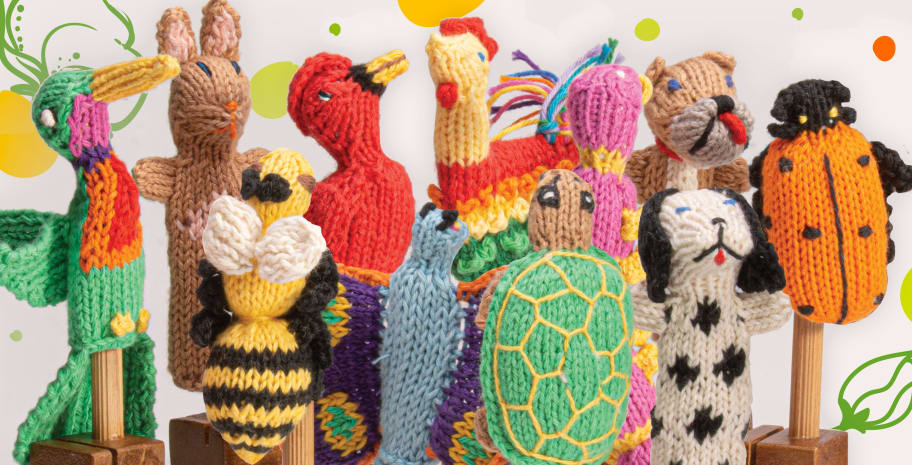 Got some Lucuma Designs fun-lovin' finger puppets?
Get your earth-friendly organic cotton or alpaca wool hand-knitted finger puppets for hours of fun play -OR- make your own out of paper! Just download our free finger puppet printable patterns and let the fun begin.
Creative Ways to Have Fun and Learn with Puppets!
Puppets Make Storytelling Fun! Enhance your read-aloud time and make your kids feel part of the story with finger puppets! Recreate the feeling of an old time favorite such as The Little Red Riding Hood, Three Little Pigs, or Goldilocks, or create your own Fairy Tale Story. Other stories to get you started:

Sing Along with Puppets! Many cute rhymes and songs can be illustrated with puppets that put children at ease. Help them find their voice with songs you already know! Or, to get inspired, visit places such as:

Puppets Help Kids Express Emotions! When things get tough, under stressful circumstances, having a finger puppet handy may help break the ice. Children (or adults alike) may communicate more freely about their feelings when speaking through a puppet.

Play Along with Storyteller Videos! Explore YouTube for a good storyteller and share videos with your child to play along with puppets. Here are some we liked:

Puppets Make Second Language Learning Easier! Teachers tell us that when kids have a puppet in their hand, they are more confident to speak in a new language.

Making Your Own Props, Scenes and Homemade Theaters just Adds to the Fun! Help your child create a stage or props to go with the stories, rhymes or songs your child already knows and loves. To get inspired, check out these fun paper crafts: https://mrprintables.com/homemade-toys.html
More on how to use finger puppets in the home or classroom: