Edith Cruz: A Woman Knitter Empowered by Fair Trade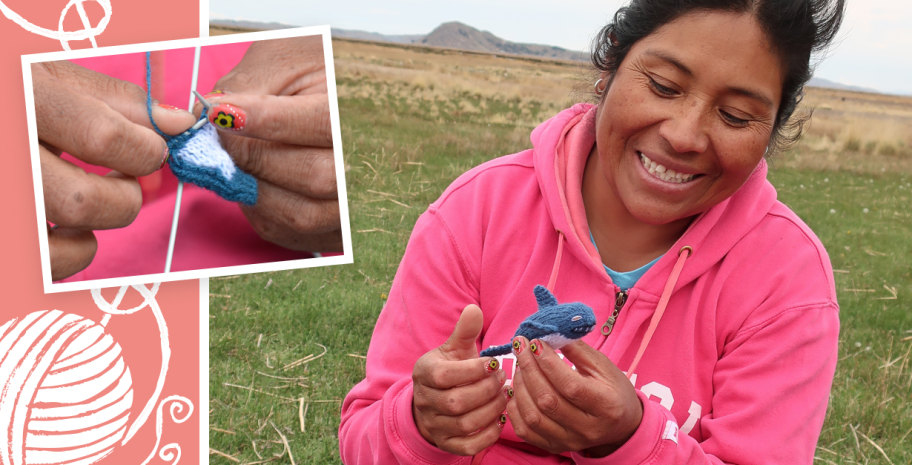 In her rural village overlooking Lake Titicaca, near Puno, Peru, Edith Cruz grew up watching her mom knit scarves, sweaters, and gloves to sell. Her nine-year-old sister Veronica and most of her girl friends knitted their own dolls to play with, but Edith wasn't interested at the time. Instead, she tried knitting in high school at age 14, which to her felt old--and today, she is glad she did!
In 2009, the Lucuma Designs team met with Edith's family and began working together soon after. With orders coming in for more puppets and ornaments, opportunities opened for other knitters to join. The extra workload called for better organization and because of Edith's budding college studies and her knowledge in computers and emails, it only made sense for her to stand up as the group leader. However, her new responsibilities came with a little apprehension.
"At first, even though I knew them since childhood, I didn't know how to properly address these ladies who were much older than me. Also, I was already knitting, but I didn't feel I had yet mastered my skills while most knitters had much more experience. So I wondered how could I even begin teaching them new designs? Those insecurities were my greatest weakness."
"I got over it with my day-to-day effort, by working together, sitting with them in on workshops to exchange ideas, then participating in fairs—there was a lot of coordination and perseverance."
A few years ago, she moved to Puno, where she earned an undergraduate degree in Administration and Marketing. In 2018, Edith went on to complete her graduate studies in Governmental Management and Business Development. She is immensely proud and grateful that both careers were paid for through her knitting.
As a single mother of two young daughters, she appreciates her ability to work from home. With the flexibility knitting brings, she's able to help them with homework, pass down her values, and, most importantly, watch them grow up. With her degrees and her earned confidence, Edith hopes one day she will start her own business. For the moment, she is happy guiding her group with ease.